AP Creator of the Month : AveryBlack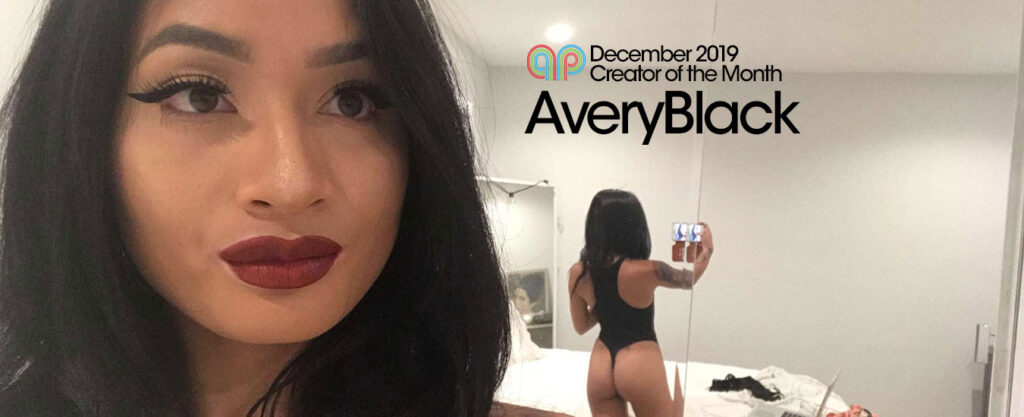 Welcome to AP Spotlight. Every month, we'll pick an AP Creator of the Month and interview them, and they send us a little video intro with some quick tips for other AP Creators.
For December, our AP Creator of the Month is AveryBlack Let's meet her…
How'd you get started making adult content?
I got started working adult content over six years ago when my partner introduced me to cams. We live streamed together and I was hooked. It was so hot fucking on the internet and making a single one of my paychecks in a night from home.
How long have you been making content?
I've been making content for over six years! September is my pornaversary month! (It's also when both of my cats? birthdays are)
What inspires your content?
Most of my content is inspired by what actually turns me on. Making my own content allows me to wear my favorite lingerie and fuck in my favorite positions.
What's your favorite content you've ever made?
My favorite video I've ever made was my first boy/girl scene with my now partner Oliver Davis! It's my best selling video to date and helped me win Top Seller of the month on AP Clips when it released in April. I remember seeing my entire timeline as that clip from all the sales and my viewers and fellow clip makers were so supportive about it!
How do you promote your brand, and what's the most successful method(s) for you?
I promote my brand mostly on twitter. I find having my sales tweeted and using gifs help my sales!
What's your trick to balancing your daily life?
My trick to balancing my daily life with my work life means taking some time off of my phone. It's easy to want to decompress at the end of the day on my phone but that makes me feel inclined to constantly check my ranks, sales, promo tweets, etc. and it makes me still feel like I?m in work mode and not fully relaxed.
If you could give a new creator advice, what would it be?
It's important to be consistent. Be consistent with your promotion and content creating, even if a video doesn?t sell great at first initially. Plenty of my videos did far better a month or two later after it was released.
If you make customs – what's the weirdest request and did you do it?
I've done quite a bit of specific kink customs so I don?t really find anything weird. I've done a lot of custom porn when I was stuck in a leg cast, burping, ignoring and eating porn.
How do you film? Any special lighting equipment/camera? Feel free to share some of your tips
Most of my videos are lit naturally. I prefer using natural light because not only does it make my skin tone look really nice, it most likely means I?m shooting in the middle of the day when I can take my time and feel relaxed. I've shot content at night and it makes me anxious feeling like I need to get it done fast so I can edit it but then I?m all the while thinking about dinner plans.
What do you like about using AP as a platform?
My favorite thing about using AP is the payout percentage. It's so upsetting seeing other platforms taking a larger cut when I get paid after I've put in so much work filming, editing, promoting, and be the talent.
Has your brand evolved since you started? If so, how?
My brand has definitely evolved in the sense that I've tried to look far more natural. I used to dye my hair crazy colors and wear bold lip colors and overthink the setting I shot in. Now when you see my current video stills beside each other there's consistency in the images, the texts I've used and the tones of lingerie I wear.
What are you watching on Netflix right now?
I am rewatching Unbreakable Kimmy Schmidt which means I?m also constantly quoting Titus. ?But I already did something today!?
What's a meme to describe yourself?
The vine where the little boy rolls up and is like ?You?re not my dad! You always wanna hear something! Fucken ugly ass noodle head!? I am both the little boy yelling and the ugly ass noodle head
You recently got into mainstream adult work! How do you balance that and clip making? Did you find it easier to make connections to make content?
I balance clip making with mainstream adult work by trying to film content trade while I?m tested! I have to get tested every two weeks so if I?m only shooting a handful of times professionally during those weeks I reach out to other performers to get the most of my tested dates!
You are #7 on the all time top sellers list! Any tips to get there?
I got to top sellers by making sure my brand is consistent and known for what it is! I advertise it all my content very similarly so when you see it you know you can recognize that. I do this by using the same few fonts on my clips.
How did you come up with your stage name?
I LOVE Grey's Anatomy. My favorite character is Jackson Avery so I chose the name Avery because of him. I also couldn?t think of any other performers named Avery so I thought that it would be great for my brand.
Hit us with your social media links so people can follow you on all the things
Twitter @AveryBlvck
Instagram @AveryBlvck
also pls follow my cats on ig but don?t make fun of Penny's mustache she's very insecure about it OKAY @pennymaydayblack @georgeandizzie