AP Creator of the Month : DarlingKiyomi

Welcome to AP Spotlight. Every month, we'll pick an AP Creator of the Month and interview them, and sometimes we'll get some quick tips for other AP Creators.
For October, our AP Creator of the Month is DarlingKiyomi. Let's meet them…
How'd you get started making adult content?
I never actually planned on doing adult-content full time. When I started college, I realized that I wasn't willing to spend thousands of dollars on an education I couldn't appreciate or enjoy because I had to work full-time around my class schedule to pay for it all on my own. I pretty much told myself I would try sex work and see if it stuck. I knew it was a career I would love and thrive in if I could get into- so I did a lot of research beforehand, and put a lot of time into setting myself up for success. I never anticipated how much I would fall in love with the job, and how rapidly my career would advance.
How long have you been making content?
I actually only started making content in May of this year! I started making content full-time in June of 2021.
What inspires your content?
My favorite types of videos are customs- but taboo is what I love and focus on. I love bringing peoples fantasies to life, and I think the possibility of new scenarios is endless. I never feel bored or limited by the ability to make someone's dream taboo video, especially since it's almost always a premise that I like, too!
What's your favorite content you've ever made?
My favorite piece of content is easily my "Breeding Kiyomi" video! After I decided to jump in head-first with sex work, I moved into a new apartment with a second bedroom so I could have my own studio. It was the first video I ever filmed in my room, and the quality and success of the video skyrocketed my confidence. It was the first time I really looked at my sales and realized I could make this work. It solidified my confidence in my move- and I realized I hadn't made a very expensive mistake!
How do you promote your brand, and what's the most successful method(s) for you?
I started out with no previous following on any form of social media. I'd say the single most successful method is to not worry about promoting your content on traditional forms of social media. Twitter and Reddit followers very rarely translate into sales. Focusing on sex-work specific websites, and studying their algorithms to push myself to the top of every search page was the best thing I did for myself. I realized very quickly that the best way to get customers was to promote on sites where paying customers already were, rather than trying to go cross-platform with promotion. Additionally, it never hurts to reach out to members on a site! Ask them what they're there to see, and use it to inspire the kinds of content you post. Don't try and upsell people, but get to know them, and scope out the overall interests of members on a site.
What's your trick to balancing your daily life?
I use a very simple (but effective!) trick. I devote one day a week- or month, depending on the task- to complete a single goal. For example- each Thursday I have a single thing to do for the day- package all of my physical store items that were purchased throughout the week. The 1st of every month, I have a massive photo-shoot and take all of my promotional & fan club photos for the month. That is my single task for the day, and whenever It's done, work is done. Having an achievable goal that I can finish, and feel like I accomplished an important part of my work helps to keep me from overworking myself. It also keeps my work from piling up.
If you could give a new creator advice, what would it be?
I'll try and keep this short and sweet, but there's 3 main things I would encourage every new creator to take to heart.
1. Study the websites you're on. When I first started, I spent hours of each day studying the top creators of each site I wanted to pursue. And not just their current content- but the videos they made when they first started out. I studied the way they phrased their descriptions, their titles & tags, etc etc. The top creators have had lots of time for trial and error, and have done a lot of the hard work already! Pay close attention to the keywords they use, and utilize them yourself. These creators will also give you a lot of insight into the kinds of content the majority of the members on a site consume. For example- if all of the top models on a site focus on Femdom, you can assume that's what a large portion of the members there will be interested in.
2. Try a bit of everything! This is rather self explanatory- but try every kink once! Keep your customs open, and you'll probably find yourself making videos for kinks you didn't even know existed. I always encourage posting custom videos to your primary store, and seeing if something sticks. For example, when I first started out I focused on a lot of content where I was just masturbating. It did fine- but it wasn't until I started doing taboo videos that I really found a niche that worked for me. All of this to say- that if you don't love the niche that works for you, don't do it. There's so many different markets to appeal to, and you'll find yourself rapidly burning out if you pursue something that you just don't enjoy.
3. My last, and most important piece of advice, is DONT overcharge. This really sucks to hear, but one of the things I end up telling almost every creator who asks me for advice is that their videos are just too expensive. Starting out, making a single video is so time consuming. Learning to film, edit, finding your angles, every video is filled with so much time and love, it only feels fair to charge the same rate as the very top creators. But- if you put yourself into a members shoes, it is so much easier to justify trying a new creators content if it's under $5. It is the fastest and most effective way to get the ball rolling when it comes to sales. People know you're new, and they don't expect you to make professional level content. But they may fall in love with you if you make it very easy for them to give you a try.
If you make customs – what's the weirdest request and did you do it?
I make a LOT of customs, and I say yes to just about anything! But I filmed my weirdest custom just a few weeks ago. I poured 8 gallons of neon green slime on myself, and it was the most fun I have ever had filming a video. The cleanup.. was a bit less fun. But swimming in a pool of slime is a sensation I can't describe to anyone who hasn't done it!
How do you film? Any special lighting equipment/camera? Feel free to share some of your tips.
I don't have any special equipment! When I first started, I filmed my videos vertical on snapchat, and used my dorm window-sill as a tri-pod (embarrassing!). The SINGLE best investment I have made in my content was buying a ring light with a tall tri-pod. In terms of tips, the best 3 pieces of advice would be:
1) BUY A RING LIGHT! A ring light with a tri-pod will change your content so drastically, the quality of your content will skyrocket.
2) FILM HORIZIONTAL! Vertical videos are not ideal for clips. In certain scenarios, they make the most sense. But for the most part- you want to film all of your content horizontal!
3) Natural lighting is your best friend! Everyone looks stunning in natural lighting, filming next to a window will make you look beautiful & sun-kissed. Just make sure the window isn't behind you, or you'll back-light yourself and all of that sunshine will go to waste!
What do you like about using AP as a platform?
I love that AP was made by sex-workers, for sex workers. The website is very intuitive, and focuses on making sure that user-member interactions end with both parties feeling positively about their experience, which is precisely what a good platform does. Features like built-in price negotiation for customs and a dedicated custom request board are tools that I appreciate, because I know it means that AP values its users and community. They give creators the best chance at connecting with users who've got a specific interest in their content.
Has your brand evolved since you started? If so, how?
I started out as a college girl in her dorm doing random photosets and videos, sticking mainly to one platform and trying to use social media as my main promotional tool. Since then, pretty much everything has changed! I live in a place where I can dedicate any time or area to my work and do my best to maintain a presence on multiple platforms, with less emphasis on social media following and more emphasis on video quality.
What are you watching on Netflix right now?
I don't watch much TV, but when I do- I pick between shows like Westworld, or Hello Kitty Supercute Adventures! (A lot different in tone- I know!)
What's a meme to describe yourself?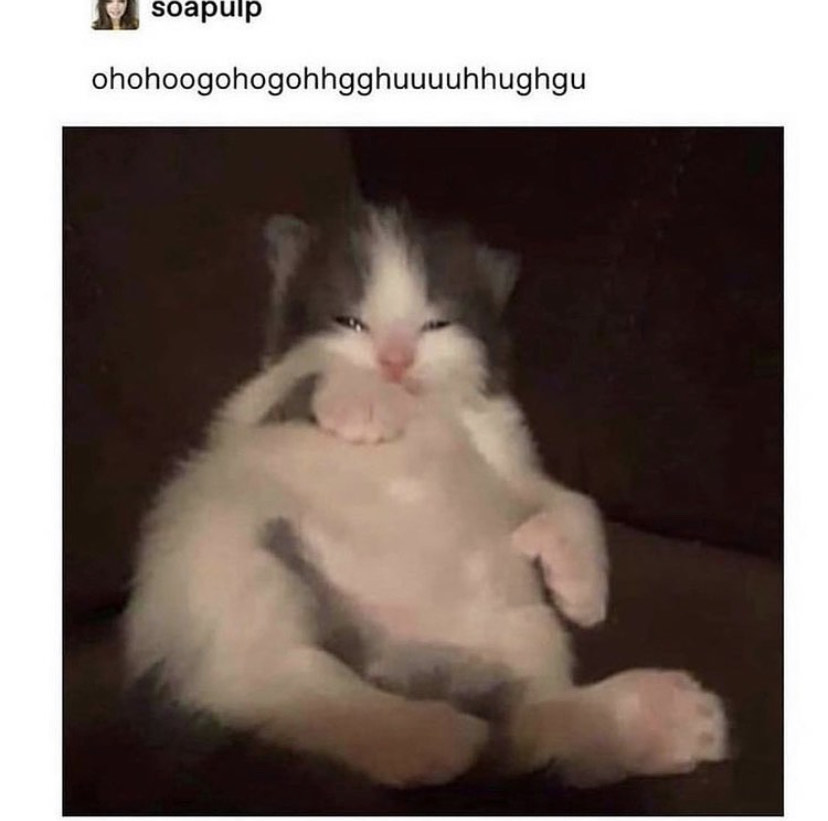 What type of videos do you always get excited to make?
Taboo videos! On top of finding some of the premises hot, I also think that many fans of taboo videos are very self-aware of the peculiarities of their kinks and I'll often have long, fun conversations with them about their upcoming order and the background behind it. I love being able to have a personal connection with those fans who I can show appreciation toward by making a video that matches their individual tastes! It also doesn't hurt that they sell really well, too!
Describe the best fan interaction you've ever experienced!
I've had a lot of wonderful experiences with fans. But- my absolute favorite fan is a fellow sex worker of mine. She reached out to me just being friendly- but has become such a close friend to me that I can't imagine being in this career without her. She has given me so much love, support, and guidance. I attribute a lot of my success to her, and it all started with a sweet message!
How did you come up with your stage name?
I put a lot of time and thought into naming myself! I wanted a very sweet and playful name that reflected me- but I also wanted a real name that people could address me as. So they felt like they were speaking to a person, rather than a performer. My goal was to get something that reflected like Hello Kitty or My Melody- since those are characters I adore! And after all- how often do you get to choose your own name? I'm half-Asian, and Kiyomi was a sweet nickname my Grandparents always called me. It means cutie pie! The Darling just seemed to fit too perfectly. I love the name I chose, and I'd never change it!
Hit us with your social media links so people can follow you on all the things!
I mostly use Reddit & Twitter! You can find me on Twitter @DarlingKiyomi , and Reddit at u/DarlingKiyomi