AP Creator of the Month : Kush Lungs

Welcome to AP Spotlight. Every month, we'll pick an AP Creator of the Month and interview them, and they send us a little video intro with some quick tips for other AP Creators.
For November, our AP Creator of the Month is Kush Lungs Let's meet them…
How'd you get started making adult content?
It was February 2016 and I found myself in a complicated financial situation after dealing with a shady medical cannabis grower company. They were very sexist and did not provide a very mentally safe environment for their employees. I left & ended up in a very small town with limited jobs. For some time I already had a NSFW Tumblr blog I used to upload to regularly with my partner (at first) eventually it turned into a blog dedicated to advertise my content & virtual services. I told myself it would be temporary but obviously I grew to love it and stick to it.
How long have you been making content?
I began with doing content when I was 25 & has been about 4 years now since I first started.
What inspires your content?
So much inspires me. Basically anything that caters to my interest. Obviously cannabis inspires me during my smoke sessions or meditations. I like to say a lot of my inspiration comes from my life experiences, fantasies & even music inspires me to create unique content. Music & meditating definitely fuel for my creativity.
What's your favorite content you've ever made?
Its really hard to decide tbh…I put effort in a lot of my videos & photo sets but if I had to choose it would be any of my 420 themed porn.
How do you promote your brand, and what's the most successful method(s) for you?
Social media of course is a very useful tool especially when most of my services are virtual. The industry is constantly changing therefore most of my methods rely on the most popular social apps catered to adults. Lately, I've been using discord to keep in touch with my supporters & sex worker friends.
What's your trick to balancing your daily life?
I have much room to grow in order to achieve my definition of "success". I'm constantly working on it, gradually getting better about balancing my life between working at home and taking care of my animals & plants. Being around my pets,plants & friends is what helps me balance my life. Mediation is a big part of that as well. Every morning I do my best to do some yoga & meditate on my intentions for the day. It really helps mentally prepare for work & keep myself focused on the day.
If you could give a new creator advice, what would it be?
I would advise to take everything at your pace, don't rush to become "successful". Focus on your craft,plan ahead as much as possible, & remember to self care! Planning those self care days are just as important as planning work days!
If you make customs – what's the weirdest request and did you do it?
I feel like I've seen just about everything unique but weird is a tricky one. What is weird for one person isn't entirely weird to another.
How do you film? Any special lighting equipment/camera? Feel free to share some of your tips.
Ohh yes I am very in love with my current mic from the brand Electrovoice RE20. It's changed the quality of my streams & content. I have always wanted to provide quality,tasteful content. I pretty much use my Galaxy phone for content filming and use my mic for the sound. Especially now that I'm dipping my sexy toes more and more into XXX ASMR content.
What do you like about using AP as a platform?
I admire the effort AP puts into reaching out to all kinds of models for exposure. The diversity in AP is definitely unique.
Has your brand evolved since you started? If so, how?
mmhh. Yes and…no? I'm stoned I'm not sure but then again I critic myself harshly LOL
What are you watching on Netflix right now?
There is a mixture of anime,sci-fi & comedy shows I am watching currently like: Supernatural, Kakegurui, Food Wars, The Good Place, Schitt's Creek & good ol' Sister Sister because of 90's nostalgia
What's a meme to describe yourself?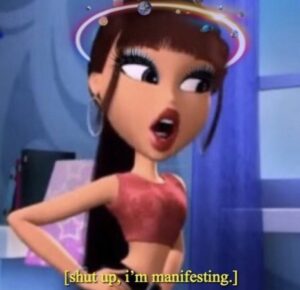 What's your favorite way to incorporate weed into your clips?
I love to smoke weed on or off camera. One of my favorite types of clips to film are customs where I get to to smoke fat joints or bong hits and then do a sexy striptease. Dancing,masturbating & smoking weed are a few of my favorite things in life.
Do you get inspired by anything specific to film?
I find I get a lot of my ideas when they simply just come to me as I meditate. Sometimes I have to stop and write it down or I'll forget later. I try not to think about anything work wise while I meditate because I feel it should be self-reflection time but the ideas suddenly pop into my head when I'm most relaxed.
How did you come up with your stage name?
It was 2010 I was probably around 20 years old visiting relatives in Oakland when a friend of mine and I were waiting on one of her friends to deliver us some green in front of a laundromat. When the dude arrived we decided to go smoke by the bay, where he encountered one of his friends there who was trying to join the circle. I was so baked I couldn't understand shit his friend was saying besides "You got that kush…'cause gotta have that kush lungs…". I instantly related to the term and it stuck with me for so long I made it my tumblr username later on.
Hit us with your social media links so people can follow you on all the things!
You can find ALL my links for Twitter,Insta, Discord & more under one place: allmylinks.com/kushlungs666