AP Creator of the Month : Lua Saturni

Welcome to AP Spotlight. Every month, we'll pick an AP Creator of the Month and interview them, and they send us a little video intro with some quick tips for other AP Creators.
For February, our AP Creator of the Month is Lua Saturni Let's meet them…
How'd you get started making adult content?
I got started making adult content in photo format at first almost 3 years ago. I've always enjoyed using photos and the human form as a creative outlet, and I needed at least a few photos to promote my phone sex operating line that was my only job at the time. I had cammed before then but that wasn't something I was too good at, camming is it's own specialized skill set I'm not naturally great at to be honest haha.
How long have you been making content?
I've been making video content for nearly 3 years but have dabbled in fetish and BDSM modelling since I was 18. I like to make erotic and body modification inspired art on the side as well.
What inspires your content?
Honestly what inspires my content is quite often art, cinema, anime or the fashion world. A lot of my more Dominant work is inspired by worship of the Demonic or Divine Feminine and my own personal spirituality as well. I enjoy leaving little easter eggs in my videos sometimes referencing movies or pieces of art that I'm fond of, I even made a video inspired by the David Lynch film Blue Velvet.
What's your favorite content you've ever made?
My favorite content I've ever made would probably have to be…. hmm that's tough but I really enjoyed making the Irma Vep vampire oral and anal video since it was the first horror/monster themed video I had done. Also Candyass To Mouth part 1 + 2 have always been some of my favorite concepts and looks I've done (lollipop in the b-hole action).
How do you promote your brand, and what's the most successful method(s) for you?
I promote my brand mostly through social media as I'm a bit of a homebody. Twitter has helped enormously but social media companies change their policies on sex work and adult content so often that I'm not sure how long it will last. I have a dedicated patron (if you're reading this thank you again <3) that runs a reddit page with my information and some photos that I'm very grateful for  as well.
What's your trick to balancing your daily life?
My trick to balancing daily life is to limit the notifications I receive from social media on my phone and also set aside specific time to read, write, draw or do something that does not involve looking at a screen. i will say that my room stays much neater most of the time now that I take pictures in it so often haha.
If you could give a new creator advice, what would it be?
If I could give a new creator advice it would be to invest in good lighting before investing in an expensive and high quality camera. Good lighting makes a world of difference. Even the most amazing camera with the most amazing model will look bad with poor lighting so don't forget that. Also watermark everything in case someone pirates your stuff.
If you make customs – what's the weirdest request and did you do it?
I do in fact make custom videos and the weirdest request that I've gotten and actually did was a cosplay video. It was actually from my favorite series Berserk and they wanted me to dress up as Slan, one of the Angels of the Godhand and humiliate their small penis while in character; then in very tall heels I crushed kumquats to simulate ball crushing. The weirdest one I refused to film was someone asking me to make an "erotic" video while feeding my pet ball python which I refused because just… no. Fetishize me all you want but leave my pets out of it.
How do you film? Any special lighting equipment/camera? Feel free to share some of your tips
I just film with a camera and ringlight, sometimes a soft box instead but I favor the ring light most definitely.
What do you like about using AP as a platform?
I like using AP because the payout is great and I enjoy the interface for uploading videos and photos. I've met some other cool creators from the site as well so that's really neat.
Has your brand evolved since you started? If so, how?
My brand has evolved a lot considering I've grown my hair back from being bald entirely haha, so my patron base has shifted over time some. I think it's the same as with survival, you either evolve and adapt or become irrelevant.
What are you watching on Netflix right now?
On netflix right now I am watching Star Trek the Next Generation.
What's a meme to describe yourself?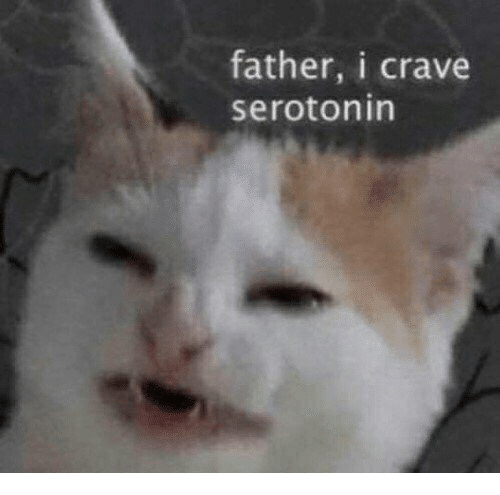 You specialize in BDSM, what's your favorite video to film in this category?
My all time favorite kind of video to film under the wide category of BDSM probably has to be extreme device bondage combined with forced orgasm and corporal punishment (maybe caning or punching). I'm very fond of behavior modification training as well.
You have over 70 videos on AP, if you had to choose your all time favorite video what would it be?
If I had to choose my all time favorite video on AP… would have to be Hexxenthron which is German for Witch's Throne. I love latex and I got to incorporate that with some lovely gloves and lots of anal stretching. My Snow Queen series was lovely to make but if I was to pick a runner up it would have to be the WhoreFrost video. I loved the costume and had eyelash glued Swarovski crystals to where my bush would normally be.
How did you come up with your stage name?
I came up with my stage name because I was born under the planetary ruling of Saturn. Lua Saturnii or Mater Saturnii was considered the wife or female counterpart to the God of the harvest, death, time and tradition Cronos-Saturn.
Hit us with your social media links so people can follow you on all the things
twitter.com/LuaSaturnii
instagram.com/ideal.exgfs.return