Say Hello to Enhanced Messages

We're excited to announce a whole load of new changes in the new year! Welcome to our new Enhanced Messaging system. Here's just a sample of what's now available to Creators.
Check out our brief feature trailer, read details below, or dive into the documentation on how to use it all.
Mass Messaging
Send a message to everyone who's bought content from (or tipped) you, anyone who's favorited you, anyone you've had previous conversations with, or all of the above all at once! You can also manually select up to 5 usernames outside of that group to message. Let your fans know if you put up a new video, or entered a contest, or just as a thank you.
Premium Messaging
Now you can charge Members to unlock your text, attach exclusive content, private content, or anything you've ever uploaded. The possibilities here are practically endless – snap a sexy selfie and attach it to a message and send it off to your fans to unlock for whatever price you choose. Members will see the message just like any other, and can unlock it in a single click or use their cart.
Here's a preview of what a Member would see…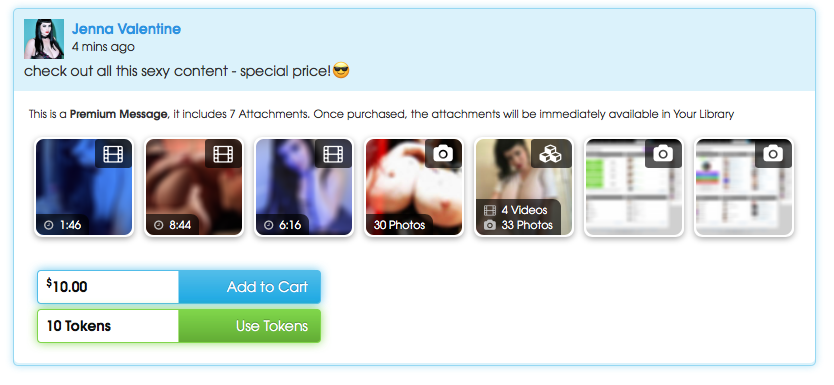 In the above example, the Creator is sending : 3 Videos, a Photoset with 30 photos, a Bundle with 4 videos and 33 photos, and 2 individual photos sent from Attachments (or Uploaded via the Messaging Interface). As you can see, we blur the thumbnails so Members aren't getting any freebies without buying.
While you may never put that much content into a single Premium Message, or for that low of a price, we wanted you to see that any such combination is possible and now available to you.
Gifting Content
Have a fan you'd like to give a little something extra to? You can use our new Send A Gift feature to send them any content in your library (including private content), or use the new Attachments feature to send them something you made just for them.
Even More Enhancements
We finally have full emoji support in messages, across all platforms. We've greatly sped up the loading of message threads. We've improved the mobile experience within the message center. We've increased the text input fields to make it easier to write longer messages. We've cleaned up the interface to make it easier to navigate and interact with. And, we've given Members the ability to tip you directly from within their inbox.
Have Questions?
We recommend reading through the new documentation on our Enhanced Messaging features, but if you have further questions : we're always here to help.