Say Hello to AP FanClub!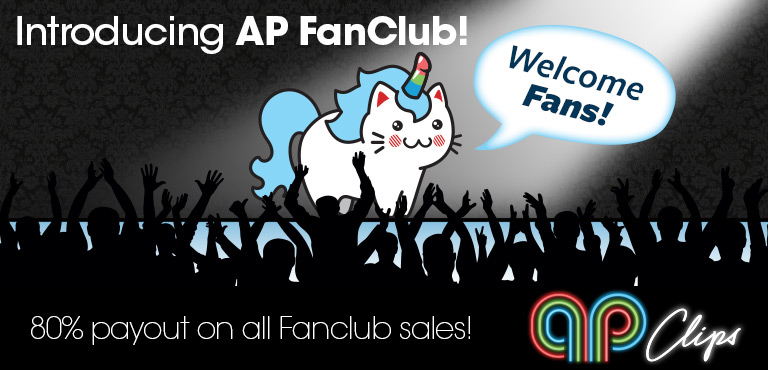 A few months ago, we polled AP creators on what feature they'd most like to have on AP, and the winning feature was a subscription/FanClub product. After months of hard work by the AP development team, it's finally here, and it's even got TIERS! Let's meet the new feature …
What is AP FanClub?
Any AP Creator can now create their very own AP FanClub – a subscription service for your fans to get content you choose automatically delivered to them, automatically re-billing on the timeframe you choose.
You can choose to have a single Tier, or use additional Tiers if you prefer to offer more options to your fans. For each Tier, you can choose to bill your fans monthly, every 3 months, every 6 months, and/or every 12 months. Put together, that means you can have up to 12 price points simultaneously for your fans to choose from, maximizing your profits and your options!
Oh, and the best part? AP Fanclub sales are paid out at 80% instead of our usual 75%!
What Can I Do With AP FanClub?
You can add any video in your library (even private & unlisted ones). You can add any photoset in your library (even private & unlisted ones). You can instantly snap a video on your phone and send it to any Tier you choose. You can do the same with any photo on your phone. You can also send anything in your Attachments library. You can even just send a sexy text out to any – or all – Tiers in your FanClub.
You can setup custom "Perks" for any of your Tiers, like Snapchat access, or let them schedule videochats with you on another platform – just tell us what information we need to gather from the user, and we'll get that info from them on your behalf. You can even let us host a Fans-only chatroom for you to use with full moderator privileges (you can mute, remove, or ban users and delete messages whenever you'd like).
Fans of your AP FanClub can "Like" any post you make, and we'll reflect the total Like count of your posts, across all of your Tiers, right there on your profile.
With up to 3 Tiers, Custom Perks, and up to 4 price points each : the possibilities are endless!
What Other Features Does AP FanClub Offer Me?
We're glad you asked! Here's a few more …
You'll get a special subdomain URL that links directly to your FanClub join page
You can post to any (or ALL) Tiers from any page on the site, directly from your User Menu

We give you full reporting features – you can see your subscriber stats, your income stats, and your Fanclub stats all at once in an easy-to-digest format

We can auto-tweet when you get a new Fanclub Subscriber, when you add new content, at certain milestones (like 50, 100, 250 etc subscribers), and/or on a daily or weekly schedule

If you add a Tier after you've already made a bunch of posts on a lower Tier, you can import all lower Tier content (even from multiple Tiers) in one click to fill up your new Tier immediately – you can also do this at any time later down the line
You can mass-message all recently expired Fans (anyone who expired in the last 90 days) to entice them to come back, or to pitch alternative options
If a user updates details that you need – like their Snapchat username – we'll not only let you know about the new Snapchat username they're using, but we'll list any old Snapchat usernames they've sent to you in the past, so you can revoke access to those accounts (preventing a user from having Snapchat access on multiple accounts that you may have missed)

You can edit or delete any post in any Tier at any time
How Do I Get Started?
It's simple, just login and click "My Fanclub" from your User Menu. Follow the instructions from there. If you have any questions, as always, let us know : support@apclips.com
Final Note
We realize making any announcements right now can be taken in a callous light, so we're pledging to donate all of our FanClub platform fees in June to the Black Lives Matter movement.