AP Creator of the Month : Pearl Sage

Welcome to AP Spotlight. Every month, we'll pick an AP Creator of the Month and interview them, and they send us a little video intro with some quick tips for other AP Creators.
For January, our AP Creator of the Month is Pearl Sage. Let's meet them…
How'd you get started making adult content?
I actually started with selling panties on craigslist for extra cash in college! My long distance girlfriend at the time was camming with her friend on occasion and when she moved to where I was, we decided to cam together and I loved it! From there I was introduced into the world of sex work.
How long have you been making content?
Wow! I think I started making content around 2016-2017 so about 5 years I'd say.
What inspires your content?
My content is inspired with the idea of pure pleasure. I want you to watch my content and feel the heat of my body, my moans in your ear. My content is inspired by pure lust and that insatiable feeling you get when you're very, very horny.
What's your favorite content you've ever made?
Probably a video I did in Cancun during a model event, it's a double penetration scene where me and a model named Maren double penetrate Leana Lovings and it was so sexy and fun! Leana was dressed up as Velma and we were the scary "cock monsters". It was so fun filming that outside in the middle of the jungle and doing a dp scene with women only is so unique! It's a lot of fun and it's on my APClips site as well!
How do you promote your brand, and what's the most successful method(s) for you?
I promote through Twitter mostly and sometimes Reddit! I do shoot for companies sometimes but i've found that people find me through those two sites. My bush is pretty huge and it's pretty easy to find me
What's your trick to balancing your daily life?
This is something I struggle with. It's so easy for me to get caught up in content creation, editing, shooting, scheduling and everything else sex work requires that I find myself always working. Something that does help me balance my life is my partner, and not sticking to a schedule. Having that flexibility makes it so I can just drop everything and take a day off.
If you could give a new creator advice, what would it be?
RESEARCH RESEARCH RESEARCH! Content creation takes a lot of time, energy and you need a strong mind. It's hard work and I highly suggest you make sure you're able to take mean comments and criticism.
If you make customs – what's the weirdest request and did you do it?
Doing niche content to start with, I get a lot of crazy requests! One that stands out is a request to do a cock and ball tortue game. Where you roll a dice and whatever you roll you skip to that point in the video and I tell you what to do. I had so much fun filming it and they loved it so much they requested a part two. That is another video I have on my APClips.
How do you film? Any special lighting equipment/camera? Feel free to share some of your tips
How i've filmed has changed a lot throughout the years. I just got the new Iphone12 pro and the video quality is SO great I've been using that in 4k mode with a ring light and a soft box as well. My tips are if nothing else, lighting is everything and will save you.
What do you like about using AP as a platform?
I love how easy it is to navigate and that I can express myself the way I want on the site. Also the payout!
Has your brand evolved since you started? If so, how?
When I started I didn't even know hairy was a fetish. I feel like my brand has always been hairy girl, but now I feel like it's really evolved into my love for pee fetish. If anything I call myself the Pee Queen and I really focus my brand on being a very femme hairy babe.
What are you watching on Netflix right now?
I've been playing so much Cyberpunk 2077 and reading 40k Warhammer books! That's taking up my Netflix time.
What's a meme to describe yourself?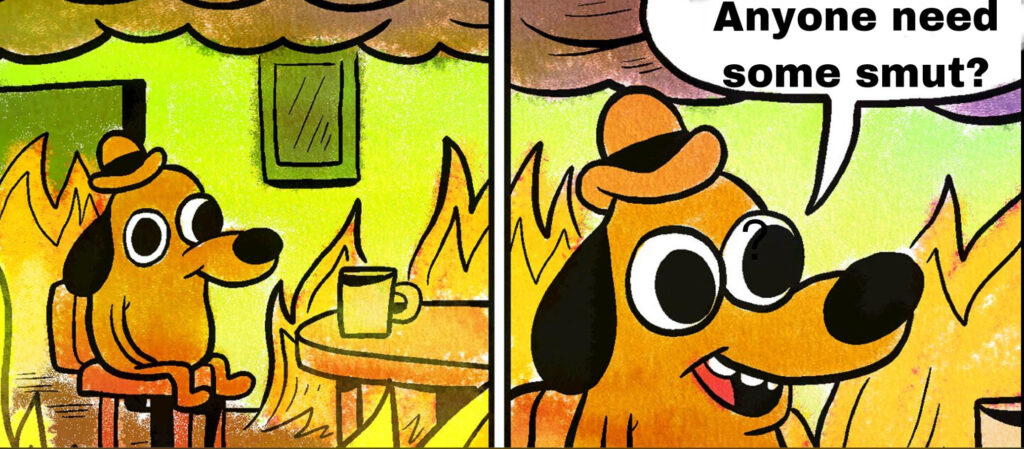 Tell us about being a hairy model! How did you get into the niche?
Wow this is a journey. I grew up hating my body hair and when I was a young 19 year old cam girl with no idea what I was doing, I forgot to shave for a few shows. Low and behold, that is what started my hair fetish today. I haven't shaven since and I'm never looking back.
How to you find other creators to film with? Especially fellow hairy models in the same niche!
Twitter! I'm following mostly hairy people and since I've been doing this long enough now, we all kind of have a beautiful community. I love my hairy friends.
How did you come up with your stage name?
Pearls to me are "rare" but there's plenty in the sea. Each one is unique and different and that's what makes them beautiful. Also I love Steven Universe and as an ex-ballerina I loved Pearl from the show and I adopted that name. As for Sage, I was meditating on the name Pearl while I was burning sage and it just hit me. Pearl Sage.
Hit us with your social media links so people can follow you on all the things!
Alright! We have Twitter.com/Pearl_Sage, OnlyFans.com/PearlSage, and coming soon(under construction)… PearlSage.com for everything Pearl related, blogging, travel, content and more!