AP Creator of the Month : Maia Rain

Welcome to AP Spotlight. Every month, we'll pick an AP Creator of the Month and interview them, and they send us a little video intro with some quick tips for other AP Creators.
For February, our AP Creator of the Month is Maia Rain. Let's meet them…
AP Creator Spotlight : Maia Rain from AP Creators Official on Vimeo.
How'd you get started making adult content?
I had been camming for about a year and wanted to try content making. A customer helped me out by purchasing my first DSLR camera & I got to work!
How long have you been making content?
I started selling videos in early 2019, I'm still just a baby!
What inspires your content?
Other sex workers are my constant inspiration. The creativity and beauty within the community continually challenges me to be a better version of myself.
What's your favorite content you've ever made?
I made a video called "King Wolf and the Forest Nymph" where I was in the snow barefoot for about 30 minutes filming. I used unique angles, shots and sound effects to create a complete narrative in a video that is less than 3 minutes. I was so proud!
How do you promote your brand, and what's the most successful method(s) for you?
Online promotion for sex workers has been difficult since the passing of FOSTA/SESTA in 2018. I try to focus my advertisement efforts on Twitter, but I also have a premium Snapchat I use to promote new videos.
What's your trick to balancing your daily life?
I've always been notoriously bad at balancing work & home life. I always tend to lean too far one way or the other. I'll let you know when I figure out a trick!
If you could give a new creator advice, what would it be?
Be proud of everything you publish. In our industry, you never know if a video will go viral and bring you an influx of customers. Make each project something you'd be excited to show the whole world.
If you make customs – what's the weirdest request and did you do it?
I honestly haven't gotten any custom requests I would personally consider weird – if you think you have one, try me!
How do you film? Any special lighting equipment/camera? Feel free to share some of your tips.
I have a Canon Rebel t6i that I usually use for filming. Lighting depends on my mood; sometimes I will use natural light, sometimes I use box lights and sometimes I use a ring light. I don't have any external microphones yet so I rely on the internal mic of my DSLR. A good tripod is invaluable!
What do you like about using AP as a platform?
I love the community feel of AP Clips. It's small enough to be noticed yet large enough to engage with plenty of customers.
Has your brand evolved since you started? If so, how?
I've definitely evolved in terms of quality. I also like to keep it fresh in terms of content; There are so many kinks and fetishes to explore, it's impossible to run out of ideas if you keep your mind open.
What are you watching on Netflix right now?
Netflix is lame, they got rid of The Office AND Parks & Recreation. I just finished Veneno on HBO Max, a stunning tribute to Spanish SW icon Cristina Ortiz.
What's a meme to describe yourself?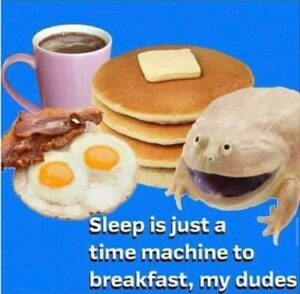 What type of videos do you always get excited to make?
I love making concept videos and anything that has a storyline. I also find it exciting to bring someone else's vision to life.
Do you get inspired by anything specific to film?
New lingerie, outfits and toys always get me in front of the camera.
How did you come up with your stage name? (you can skip this question if it's too personal/revealing)
I've always loved the name Maia, and I thought Rain would be a clever last name for plenty of dirty double entendre.
Hit us with your social media links so people can follow you on all the things!
www.twitter.com/themaiarain
www.instagram.com/themaiarain
www.reddit.com/u/themaiarain