AP Creator of the Month : LisaTheSuccubrat

Welcome to AP Spotlight. Every month, we'll pick an AP Creator of the Month and interview them, and they send us a little video intro with some quick tips for other AP Creators.
For March, our AP Creator of the Month is LisaTheSuccubrat. Let's meet them…
How'd you get started making adult content?
At the time I had been introduced to sex work, I was working at a gated severe dementia facility doing care-taking (which was unfortunately not paying enough) amidst having on-going medical problems related to my previously having Ulcerative Pancolitis. I was struggling to make ends meet frequently and even with government assistance, I often felt scared of the future and of anything financially. A friend noticed I needed some help & mentioned that she used to be a camgirl in college for MFC. While it wasn't for her and she eventually stopped, she did make pretty dang good money from it, & offered to help me set up an account if I was interested. In all honesty, the thought of having to talk to a group of users and be sexy and or entertaining, gave me anxiety lol. I am quite introverted at heart & I pictured a cam-room as public speaking in a weird way at the time. I questioned if my personality alone was 'good enough' to be a streamer and doubted myself.
My first stream ever was full of confusion and anxiety as I desperately tried to navigate a site I was not familiar with in the slightest. So my first night ever on stream….*drumroll* I made $4-$6 in about 3hrs… I remember getting a Big Gulp and smoking a cigarette after. I felt silly for trying without any knowledge of the site and silly that I thought it would be so easy.. (funny how that works!) Because of this, I ended up taking a step back from the idea entirely. In the meantime, I continued doing care-taking & eventually picking up a job at Domino's pizza to get some extra income on the side. Internally, I often thought about cam, and how freeing it would be for me with my medical problems, and dreams of art school, to make it work.
I began to spend the next 3-4 months navigating the main camming/clip sites. Understanding how they work, how to promote yourself, how to create a bio, as much as I was able to until I felt confident enough to return; and once I did, I did amazing on my first Chaturbate stream and streamed for the next 2 full years on there :') Eventually moving on solely to content creation after building my own little succubrat platform!
How long have you been making content?
I would guess now 3 years total, not very long! I see myself doing this for quite a while though, I enjoy it and enjoy creating!
What inspires your content?
For me it's the process of creation! Those little things that go into a creation of any sort, are my favorite part of it all. To create something out of emotion and see it come to life is amazing whether it's a video, a meal, a song, a drawing, whatever it may be! A creator is nothing without creation and I like to think that I thrive off of the dynamic of neither one of us being able to thrive without each other. If I don't enjoy the process of making it, I likely won't enjoy the outcome.
What's your favorite content you've ever made?
Ironically enough, it's my cosplay/photosest of 'The Witness' from S1 EP3 of 'Love, Death, and Robots' which I'm now realizing I have close to no promotions for (brb) I think it has to be one of my favorite makeup jobs I've done and also one of the most enjoyable ones to put together. It was one of the first times I had really begun to start playing around with photo editing and my LED lights which I always had used as background decor for the most part and it ended up coming out exactly as I had pictured it in my head. Otherthan that, the 'Newscast' style panties promo vid on Twitter.
How do you promote your brand, and what's the most successful method(s) for you?
Well, an ass picture never hurts! That's a good question though. I do try to keep a daily schedule for my social media, I have a couple alarms for when it's time to post media on Snapchat/Reddit/Twitter/OF/Etc but don't follow it religiously, just as a reminder in case there's something I need to promote on a site and forgot to. On sites like Reddit, some posts flop that would do really good on Twitter, and vice versa. Sometimes I'll play around with posting something just to get an idea as to how well it does on that site, or how many people click the direct link if I have one added to the post, and I tend to check statistics frequently on my links to see what is doing the best.
For example, when I do my promo skits or transition vids, I get more followers/subscribers/overall insights from it if I post it on Twitter, but if I were to post that same thing on Reddit, it would probably get close to nothing if not a downvote lol. So I think playing around is a good idea and just getting a feel for what posts of yours do well on what sites! Mess around with new types of content :') If you play guitar but have no videos of you playing it, make one! If you've never done a silly dancing video, make one! You have no idea what will blow up! Sometimes things I've made that I thought were sooooo silly to post, ended up working really well in my favor!
What's your trick to balancing your daily life?
Oof. Well, I will have to say that balancing my time in general is not my strong suit. With sex work, school, and creating art, I definitely have moments (some publicly on Twitter) where I feel overwhelmed by what I have to do or what I haven't done. I think the biggest trick that most would recommend is to give yourself some slack. You really can be your own worst enemy especially in a life of self-employment and even more so during COVID times. It's easy to forget basic things or have trouble creating/maintaining a schedule for yourself because you're the boss, the HR department, the janitor, and the customer service department when you're self employed.
A schedule has helped me a lot with balance, even if people think it's silly I have to remind myself to take a step back and go cook dinner or take a 30 minute break from work. I think having a little work area has helped me too, so that I have my work desk for when it's time to work, and I can push in my chair and feel like I've 'left the office' for lack of a better word.
If you could give a new creator advice, what would it be?
Build a platform! I think one of the most frequent questions I get is coming from people just getting into sex work who are confused/upset that they're not making any money from it even though they are just starting out (remind you of someone?) or just got approved from a site. You can have an account on a site but if you have no followers or no brand yet, it's unlikely that people are going to subscribe or buy your content even if you are uploading it like crazy!
Starting out with a Twitter & Reddit account helped me a lot with promoting and starting to get people to follow me and check out my other links! And a reminder that when you're just starting out with content, you don't HAVE to make a promo for everything that you release! :') It's okay to not create a trailer or post for everything you upload! I know that I tend to get overwhelmed at the thought that not evvvverything I have posted has a promo for it, but honestly it's not really needed for every single thing.
If you make customs – what's the weirdest request and did you do it?
Oh gosh. Okay I don't think it's weird per se but I do think it was the most… different one I've done? It was a custom scripted private video call where I stood completely naked with my arms out and just repeated "I am a goddess. I am hot. I am SEXY" again and again and again and again. Each time getting a little louder. You'd likely imagine that felt quite empowering but being stoned and saying it so much felt like a fever dream. Also I accidentally farted loud halfway through the video and tried to keep repeating the phrase over it without laughing. I have not heard from that user in a very long time since then.
How do you film? Any special lighting equipment/camera? Feel free to share some of your tips.
Nothing too specific, I started out with umbrella lights and moved on over to a single ring light which I'll use alongside my LED strips depending on the theme/lighting I'm going for! A big game changer recently for me has been downloading this app called Reflector3 onto my laptop. It essentially just mirrors the screen off of your phone onto your laptop screen, which I use so that I can use the back of my iPhone's camera instead of the selfie camera! I get much better quality and this way, I can see everything that's being filmed without having to do a mirror set up which is what I used to do. I like to film multiple sets in a day as well so that the next day or two can be spent solely editing and posting them rather than waking up daily and needing to take a new photoset. A bluetooth clicker is a must as well :')
What do you like about using AP as a platform?
The payout is great and so is the platform itself. It's easy to become familiar with and easier to navigate. Plus it's honestly the fastest response time I've gotten from customer support or a big twitter profile when I've needed help on their site.
Has your brand evolved since you started? If so, how?
Absolutely! I think regardless of if you think so or not, everyone's brand changes and evolves over time in some way or another. When I started out camming, I was known as the 'dinosaur girl' hahaha, because I had so many Jeff Goldblum pillows and dinosaur related things at the time that it was hard not to associate me with that. I eventually evolved to be the Succubrat I am today and find it easier for myself personally to not have my brand revolving around one certain thing or theme if that makes sense. However… I do still really love dinosaurs…
What are you watching on Netflix right now?
Nothing because I am a monster who watches everything in sight and I am completely out of new things to watch on there at this moment.. Before that, I binged the new season of Aggretsuko, all of Hotel Cecil, all of The Night Stalker, all of Ink Master, and pretty much anything my grubby little fingers scroll over and most especially.. anything that is true crime related
What's a meme to describe yourself?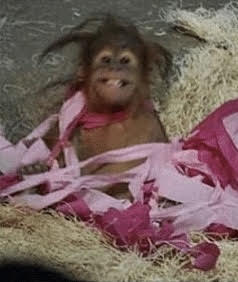 What type of videos do you always get excited to make?
PMV/transition based vids are my favvvvorite. It's so fun to plan out the transitions and then make it comes to life with editing afterwards.
Do you get inspired by any fellow SW?
Some of the coolest and most creative things I've seen have been made by the minds of SW's. They are incredibly inspiring and I swear some of the sets and looks I've seen SW's put together are remarkable and done with such ease.
Hit us with your social media links so people can follow you on all the things!
Twitter : lisasssuccubrat
Twitch : twitch.tv/lisathesuccubrat
Reddit : https://www.reddit.com/user/lisasssuccubrat
Tiktok : lisathesuccubratz