AP Creator of the Month : YourLittleWhore

Welcome to AP Spotlight. Every month, we'll pick an AP Creator of the Month and interview them, and they send us a little video intro with some quick tips for other AP Creators.
For April, our AP Creator of the Month is YourLittleWhore. Let's meet them…
How'd you get started making adult content?
I started on my last year of collegue. I tried getting some intership and I couldn't find any because of my colored hair and tattoos so I started camming back in 2018. I love porn so it wasn't that hard to make this decision.
How long have you been making content?
I started making live shows in 2018 but I started making videos in 2020. I slowly migrated from camming to making videos. Now I'm focused on making videos but I go online sometimes. I'm trying to figure out how I can manage both.
What inspires your content?
People coming to me asking for custom videos because they like the my style and personality and from watching a few clips of mine they know they can share their naughty fantasy so I can make them come to life.
What's your favorite content you've ever made?
I love making sneakers fetish videos and videos that most people may consider disgusting things lol it can go as far as you think hahaha
How do you promote your brand, and what's the most successful method(s) for you?
Sometimes I approach clients with promotions but most of the times my kinky content promotes itself and they look for me to make their customs. I'm not very active on twitter or anything. I started "yourlittlewhore" not so long ago and it is growing so fast that I still trying to manage how to handle everything.
What's your trick to balancing your daily life?
Well, in Brazil covid is getting worse and worse so right now my life isn't balanced at all lol
If you could give a new creator advice, what would it be?
I think the most important thing about sex work is patience, you will need it a lot. Another important advice is to open your mind about whats sexy for you and try to understand what can be sexy for others, there's a lot of content/fetishes underexplored in the internet and believe me the list is bigger than you think.
If you make customs – what's the weirdest request and did you do it?
It's very difficult for me to say no to a video but one that comes to mind (and of course I did it) was to force garbage inside of a trash can with my heels. Same guy asked after to smash boxes with the heels. There was another that asked me to wear 4 hoodies alternating one hiding my face and the other one hiding my hair, and then take them off one by one.
How do you film? Any special lighting equipment/camera? Feel free to share some of your tips.
I use iPhone 11 back and front camera on a tripod and umbrella lighting. I'm very simple hahha Most of the times my boyfriend is my camera man but if you work by yourself I reccomend using a tripod that has a bluetooth clicker so you can take pictures or start recording without touching your phone 🙂
What do you like about using AP as a platform?
Definitely the higher payout rate 🙂 But I really like how easy you can make video bundles as well. The BTO request board is also a pretty cool tool for creator because you already have most of the information about what kind of video the person wants. I think that can avoid a waste of time discussing a custom with a member then he asks for lots of "off limits" things.
But the thing I like the most is APclips marshmallow and Unicorn cat with a dildo as its horn lol <3 they are so cuteeeeee
Has your brand evolved since you started? If so, how?
Yeahh a lot! I started "yourlittlewhore" with my boyfriend in november 2020 and it's been evolving much faster than we could ever think! I started posting videos that I knew that not that many creators make and from very specific fetishes that most of the people would find it weird. I think that that called the attention of a few members that got in touch for a custom video. I started making customs less than a week after I created "yourlittlewhore" and I haven't stopped until now. The more customs I make the more clients come to order theirs. It's funny because some clients ask for a custom pretty much like another one that I've already done but only changes just a few details and that specific details calls the attention of another client that comes to order.
What are you watching on Netflix right now?
I started to watch Glich yesterday. But I start to watch a thousand series at the same time hehe I'm also watching Death Note (again) and on Disney Plus I love watching documentaries and the princess moviessss 🙂
What's a meme to describe yourself?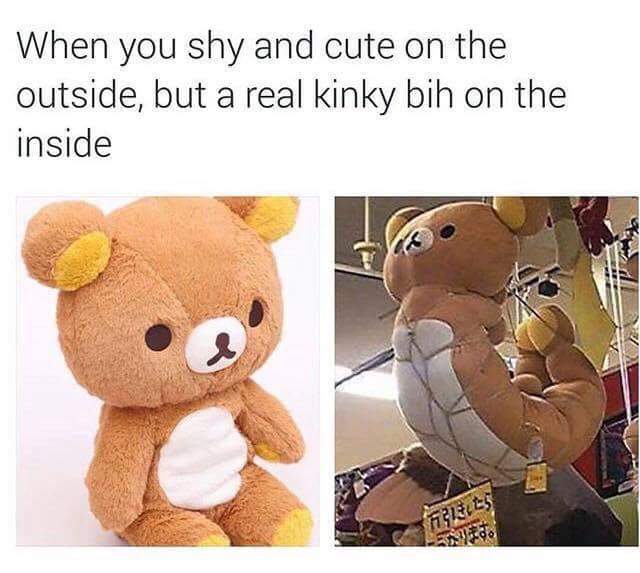 What type of videos do you always get excited to make?
I love making customs that are not fully scripted. Some clients order videos with specific dialogs and I have to stop to remember/read them and I end up getting stressed about it. I love making videos that I'm free to create/improvise the dialogue.
One particular video that I liked a lot is "taking my tiny fart slave for a walk outdoor" that is a part3 of a serie of video. The video has 30 minutes but the guy that ordered only told me to do a few things and left open for me to improvise
Describe the best fan interaction you've ever experienced!
The best fan interaction I'm still experiecing hahah It began in december of 2020 when a guy bought my video from a very specific fetish that he liked so much that he searched for me on another platform (the platform he bought from he can't get in touch with the creators). He ordered a 1 hour long custom (more like a movie). That movie made us maintain contact. We talked about it, i said what was the difficult parts and the parts I liked the most I about it, so this relation started to become more persoanl and now we are friends 🙂 Hi Karsten!
How did you come up with your stage name?
My stage name is actually Lily and I came up with this idea from an anime that I like called Elfen Lied. I love it's theme song that calls Lilium which means Lily! But "yourlittlewhore" was from nowhere. Me and My boyfriend had decided to start a page for us but we didn't know what to call it.
When I clicked "create account" I had nothing in my head. When the "nickname" box came up I just wrote yourlittlewhore lol It was the first thing that came in my head at that moment.
Hit us with your social media links so people can follow you on all the things!
https://twitter.com/yourlittlewh0r3