Discounting Tools Are Here!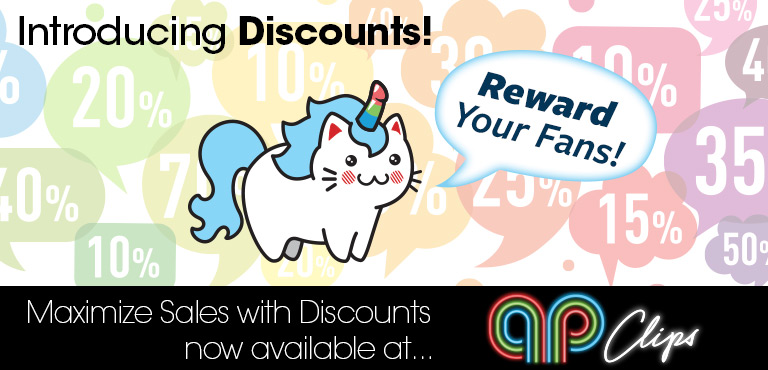 One of the most requested features in the past few years has been the ability to discount clips, photosets, and bundles. We're proud to announce : Discount Tools are here!
Types of Discounts
There are two basic discount types : Code-Based – which require a code to unlock, and Time-Based – which are enabled for everyone viewing your profile or content for a limited time. You can also set expiration dates on your Code-Based discounts, and you can run multiple discounts at a time.
For Code-Based discounts, we'll give you a link you can use in promos that will apply the appropriate discount on your profile, on your content listing pages, and on content preview pages. Alternatively, users can type or paste in discount codes right in their Cart and any items affected by the code will apply in one click.
Discount Amounts
For Time-Based Discounts, you can discount by a Percentage, or a Dollar Amount.
For Code-Based Discounts, you can discount by a Percentage, a Dollar Amount, or set a Fixed Price – for example "all blowjob videos are $3 with this code". Another feature exclusive to Code-Based discounts is that you can increase the price by a Percentage or Dollar Amount. Great for the Findoms : create a code that tacks on a 25% markup to everything in your store!
What Can I Discount?
You can discount all of your videos, all of your photosets, and/or all of your bundles. For videos, you can also limit the discount to certain tags or categories, and you can also manually select specific videos. For photosets and bundles (which don't have tags or categories), you can discount either all or specific ones.
Quick Fanclub News
In addition to our awesome new Discount system, we've made a small change to how your Fanclub URL works. Previously, it would redirect users to your profile page, with the Fanclub tab selected. Now, they'll be brought to your Fanclub mini-site. It's a lot less distracting, and similar to industry standard Fanclub-style pages. In addition, users are just one click away from your profile and all of your content, but it's a lot more obvious now what your Fanclub entails and loads faster than ever! We hope this helps everyone maximize their subscriber base.
Thank You
We want to thank you for being part of the APClips family and we're hoping these new changes and features make AP better than ever for you. If you have any suggestions for upcoming features, you're always encouraged to email support@apclips.com and let us know!